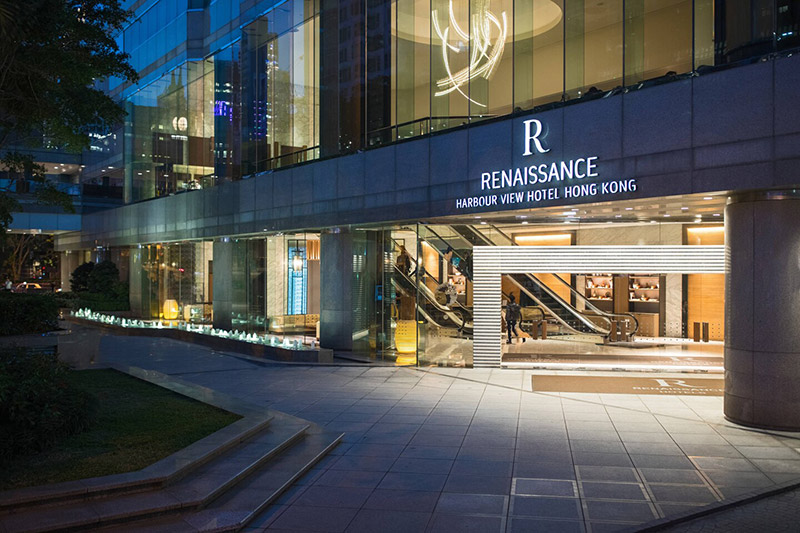 Renaissance Hong Kong Harbour View Hotel
1 Harbour Rd, Wan Chai, Hong Kong
With a great location in Wan Chai, the hotel showcasing Victoria Harbour views is attached to the Convention and Exhibition Centre. It takes only about 5 minutes by taxi to the central business district and major shopping areas, and is only a 10-minute walk to the Wan Chai MTR station and ferry pier.
Hong Kong is situated on the coast of south-eastern China. Vibrant and densely populated, it is a major port and global financial centre famed for its tower-studded skyline. Hong Kong is also well-known for its food and shopping facilities. Supported by efficient public transport system, its commercial districts and outlying islands are easily accessible by buses, ferries, mini buses, Mass Transit Railway (MTR), trams and on foot!
| | |
| --- | --- |
| Dialling Code: | +852 |
| ISO Code: | HK |
| Weather: | Hong Kong has a sub-tropical climate and typhoon season begins in May and ends in November. September is the humid summer to autumn time in Hong Kong with an average temperature High of 30 °C (86°F) and average Low of 25 °C (77°F). |
| Time Zone: | GMT +8 hours (no daylight saving time) |
Visa and Passport
In general, all visitors to Hong Kong must have a passport that is valid for at least one month after the period of their intended stay in Hong Kong. However, documents issued to stateless persons must be valid for a minimum of two months after the period of intended stay. Hong Kong has a liberal visa policy, allowing visa-free entry to nationals of about 170 countries and territories. For country-specific visa requirements, please visit Immigration Department.
If you need further assistance from the organiser, please contact the Conference Secretariat at pbcforum@hkjc.org.hk at your soonest.
Currency & Foreign Exchange
The legal tender in Hong Kong is the Hong Kong dollar (HKD), which is pegged to the US dollar at a rate of about 7.80 HKD to 1 USD, although exchange rates may fluctuate slightly.
You can exchange your currency for Hong Kong dollars at any authorized money exchanger. For extra peace of mind, look for a money exchanger that is accredited by the Quality Tourism Services (QTS) Scheme. At Hong Kong International Airport, currency exchange counters are open from early morning until late at night and many located within the city stay open into the evening. ATMs are widespread and operate 24 hours. Exchange rates fluctuate daily depending on currency markets.
Electricity and Voltage
The standard electrical voltage in Hong Kong is 220 volts AC, 50Hz. Most hotel bathrooms also have outlets for 100 volts, but if not, you will need a transformer for any appliance or electrical equipment. The majority of electrical outlets in Hong Kong take a three-pronged UK-style plug. You can buy an inexpensive adaptor for your electrical equipment at most convenience stores.
Emergency
In emergency situations, you can contact the local police, ambulance service, fire department and other emergency services by calling 999.