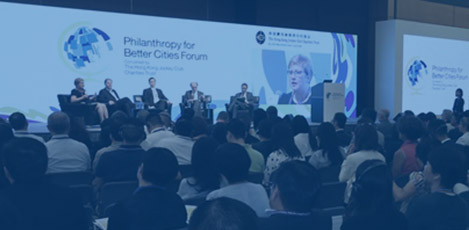 According to statistics released by the United Nations, more than 55% of the world's population now live in urban environments, a proportion that is expected to increase to 68% by 2050.
While urbanisation may improve people's quality of life, the potential for development can only be fully unleashed if solutions can be found to address associated issues such as housing, widening wealth gap, public health, environment, sustainability and ageing population. In this connection, there is a need for the society to review its assumptions, reposition its work and adopt innovative approaches in addressing new and pressing metropolitan social challenges.
Convened by The Hong Kong Jockey Club Charities Trust, the Philanthropy for Better Cities Forum (PBC Forum) is the first of its kind in Asia to focus on metropolitan social issues. The Forum provides a platform for philanthropists, thought leaders, social entrepreneurs, policy-makers, academia and NGOs from around the world, especially the Asia-Pacific and Greater China region, to exchange views, facilitate cross-sector collaboration and cultivate long-term partnerships and engagement, all in the hope of creating better cities.
The inaugural edition in 2016 presented a platform for the discussion of a broad range of topics including keynote discussion on creating "Shared Value", whereby businesses can generate economic benefits in a way that also produces value for society by addressing its challenges. The shared value approach reconnects company success with social progress. There were also in-depth plenary and track discussions across five themes including (i) ageing & health, (ii) youth & education, (iii) innovation & technology, (iv) environment and sustainability, and (v) public-private partnerships. The Forum attracted some 50 distinguished speakers and 1,000 delegates from across the globe.
At the 2018 Forum, Professor James J. Heckman from the University of Chicago and Professor Michael J. Sandel from Harvard University will be joining us as keynote speakers.
Education has always been one of the key areas shaping civilised societies, especially in metropolitan cities. As an expert in the economics of human development, Professor Heckman will propose in his Day 1 keynote speech that philanthropists focused on helping children should shift their efforts to what happens before school. He will help the audience identify the most important paths towards impact that philanthropists and other stakeholders can support when looking to scale up Early Childhood Development (ECD) solutions.
On Day 2, Professor Sandel will take forward the discussions on "Creating Shared Value" from the inaugural forum and offer an alternative perspective by discussing the moral limits of markets and market mechanisms. He will explore with his audience the ethical dilemmas regarding what are the right things to do for addressing metropolitan social challenges.
In addition, the following five thematic areas will be covered in the 2018 Forum: