According to statistics released by the United Nations, more than 54% of the world's population now live in urban environments, a proportion that is expected to increase to 66% by 2050.
While urbanisation has made it possible to improve the quality of life of many, the potential for progress can only be fully unleashed if solutions can be found to address associated issues such as housing shortages, the widening wealth gap, pollution, public hygiene, energy consumption and the ageing population trend. In this connection, society needs to review its assumptions, reposition its work and adopt innovative approaches in addressing new and pressing metropolitan social challenges.
Convened by The Hong Kong Jockey Club Charities Trust, the Philanthropy for Better Cities Forum is the first of its kind in Asia to focus on metropolitan social issues. The Forum provides a platform for philanthropists, thought leaders, social entrepreneurs, policy-makers, academia and NGOs from around the world, especially the Asia-Pacific and Greater China region, to exchange views, facilitate cross-sector collaboration and cultivate long-term partnerships and engagement, all in the hope of creating better cities.
The inaugural edition in 2016 presented a platform for the discussion of a broad range of topics. Keynote speaker Professor Michael Porter of Harvard Business School illustrated the concept of "Creating Shared Value", whereby businesses can generate economic value in a way that also produces value for society by addressing its challenges. The shared value approach reconnects company success with social progress. There were also in-depth plenary and track discussions across five chosen themes, namely (i) ageing & health, (ii) youth & education, (iii) innovation & technology, (iv) environment and sustainability, and (v) public-private partnerships. The Forum attracted some 50 distinguished speakers and 1,000 delegates from across the globe.
At the 2018 Forum, Professor James J. Heckman from the University of Chicago and Professor Michael J. Sandel from Harvard University will be joining us as keynote speakers.
Education has always been one of the key areas shaping civilised societies, especially in metropolitan cities. As an expert in the economics of human development, Professor Heckman will propose in his Day 1 keynote speech that philanthropists focused on helping children should shift their efforts to what happens before school.  He will help the audience identify the most important paths towards impact that philanthropists and other stakeholders can support when looking to scale up Early Childhood Development (ECD) solutions.
On Day 2, Professor Sandel will take forward the discussions on "Creating Shared Value" from the inaugural forum and offer an alternative perspective by discussing the moral limits of markets and market mechanisms. He will explore with his audience the ethical dilemmas regarding what are the right things to do for addressing metropolitan social challenges.
In addition, the following five thematic areas will be covered in the 2018 Forum: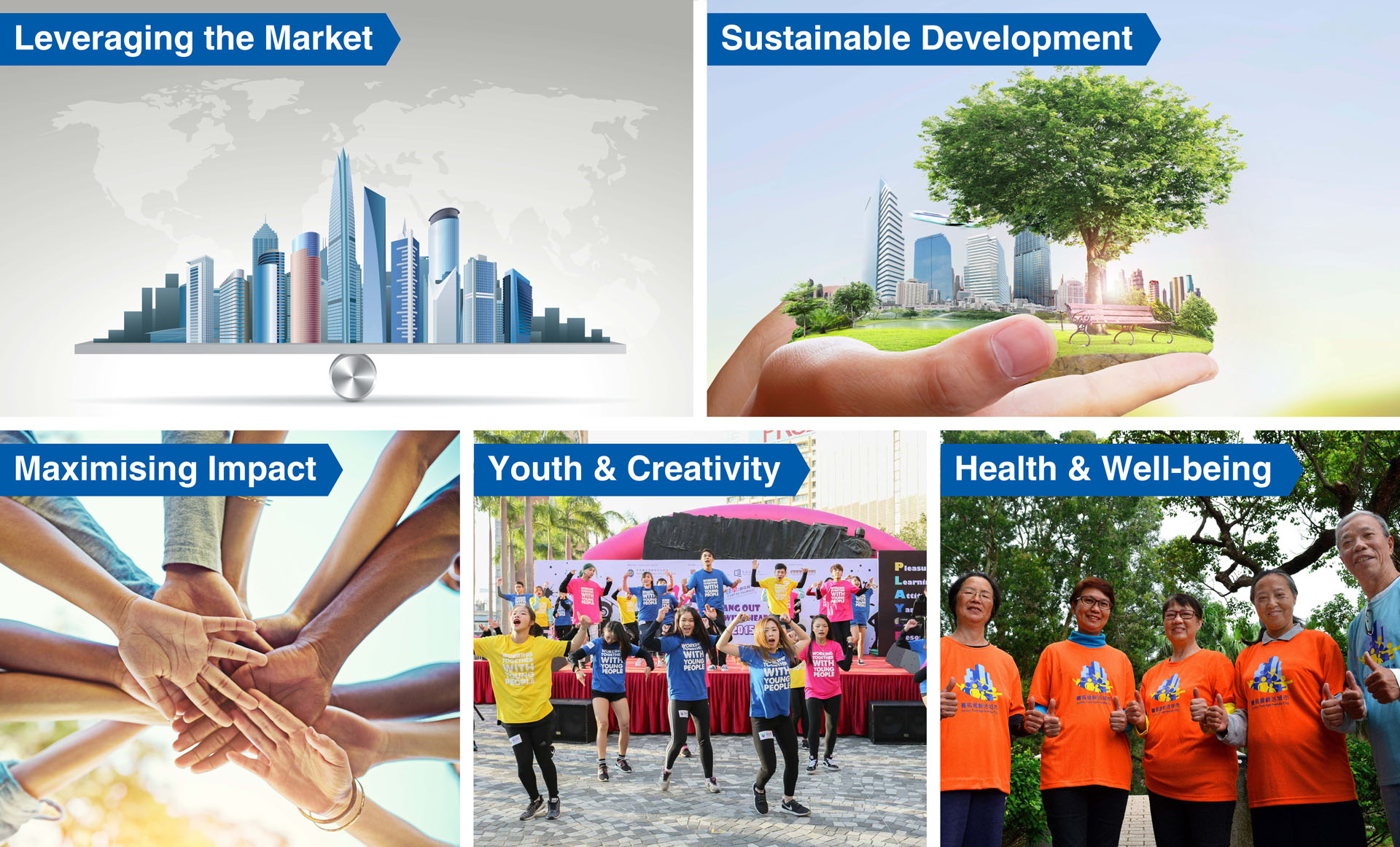 Leveraging the Market
We will explore how various market mechanisms and tools can be used to address social issues, and the best practices that can be shared within and between developing and developed market ecosystems.
Sustainable Development
We will explore how urbanisation, which creates the paradox of unsustainable practices alongside growing social consciousness, can be leveraged to make cities the deciding factor in achieving sustainable development.
Maximising Impact
In the face of urbanisation and globalisation, social issues in cities have become more complex and interconnected. We will explore how partnerships between governments, businesses, non-profit organisations and other stakeholders can be strengthened, and how best use can be made of technology to scale up their impact.
Youth & Creativity
We will explore how cities can effectively engage their youth as new forces in creating social impact and shaping the future of their metropolises, and how arts and culture can be leveraged for social inclusion and empowerment.
Health & Well-Being
We will explore how cities can tackle the commonly-found sedentary lifestyle among city populations, and respond to other pressing public health and ageing issues.
The Convener: The Hong Kong Jockey Club Charities Trust
Founded in 1884, The Hong Kong Jockey Club is a world-class racing club that acts continuously for the betterment of our society. The Club has a unique integrated business model, comprising racing and racecourse entertainment, a membership club, responsible sports wagering and lottery, and charity and community contribution. Through this model, the Club generates economic and social value for the community and supports the Government in combatting illegal gambling. The Club is Hong Kong's largest single taxpayer, one of the city's major employers, and its Charities Trust is also one of the world's top ten charitable donors.
Working with the Government, non-governmental organisations and community partners, the Club's Charities Trust proactively seeks out the root causes of social issues, bringing multiple and cross-sectoral parties together to address them through innovative approaches. While continuing to fund a wide range of projects, the Trust is placing special emphasis on four areas of strategic focus:
Youth – Empowering youth for a hopeful future
Elderly – Building an age-friendly Hong Kong
Sports – Promoting active participation and sportsmanship, making sports fun and accessible to all
Arts, Culture & Heritage – Building a culturally vibrant Hong Kong, enriching lives and promoting social inclusion